by Steve Berestecky, Director - Business Development.
Ever wonder why a room bright with natural light makes you feel happy? Or why you feel more sluggish on gray days? Human beings use all of their senses to interact with and interpret the environment. What we see, feel or taste may affect our physiological, emotional and psychological condition. The same thing goes with our reaction toward lighting. What we see in an environment will be interpreted by our brains and set our moods and feelings.
Light can and does affect our decision-making. In retail, lighting influences the consumer's decision on what and if to purchase. In healthcare, the use of light and colors can have a positive impact on a patient's attitude and outlook. In architecture, lighting has a dramatic psychological effect on how individuals perceive a space and how we feel and act when we are in it. And in advertising, lighting has a demonstrable effect on what captures our attention.
To create a psychologically positive space, it is important for the team of architects and lighting designers to make the lighting environment relevant to the purpose of the space. Lighting designers consider several things in creating a psychologically suitable environment:
The number of lights – They must provide enough lights around the space so that people can recognize which spots are off-limits as well as feel secure as they explore the space.

The mood – The proper ambience will evoke the desired mood in people entering the space.

The concept – The lighting must represent the purpose of the space. To make it more interesting, some decorative lights may be added.
The science behind the findings
Over a century ago, English pioneer and nurse Florence Nightingale was one of the first to recognize light as "necessary for a faster recovery" of the patient undergoing medical care. Since then, numerous research efforts have demonstrated the impact of light on human well-being. American oculist and light therapist Jacob Liberman, for example, observed that, under optimal lighting conditions, office workers were able to concentrate up to eight hours – but only remaining fully focused for two hours when exposed to artificial light. British psychologist Angela Wright, who explored the correlation between light, color and patterns of behavior, noted that light can produce specific psychological reactions, such as a feeling of ease.
Biological effects of light
Light exerts considerable influence on specific biochemical processes within our body. The hypothalamus (part of the nervous and endocrine system in the brain) "translates" light into more or less stimulating messages for the nervous system. Depending on its intensity, light can have either an energizing or calming effect. This explains why most of us feel lively and fresh during a sunny day and tired during a cloudy day. It also accounts for why our biological clock is closely connected to the daily cycle of day and night, or why some people experience seasonal mood variations. Closed-off rooms, such as examination rooms and those used for medical interventions, mostly lack adequate stimulating light, putting both patients and health care professionals into a type of "biological darkness".
Color temperature and our mood
A color's "temperature" also affects our mood. Every light source exhibits a physical characteristic referred to as color temperature", which is usually measured in kelvins (K). Color temperature permits various shades of light to be distinguished from each other – higher color temperatures (5000 K or more) are perceived as "cool" (blue and green tones), whereas lower color temperatures (2700–3000 K) appear to be "warm" (yellow and red tones). Firelight (amber 1800 K) is a universally attractive color temperature and one often sought in environments where a soothing and relaxed effect is desired.
Bright future for LEDs
Recent advancements in LED development and manufacturing create an enormous opportunity for multiple marketplaces to be re-invented and positively affected by thoughtful and strategic lighting designs – designs taking full advantage of the multiple tools now available to specifiers and designers. Commerce, quality of healthcare, enjoyment of the workplace and home are all potential winners in the exciting new age of modern, solid-state lighting.
To take LED lighting to the next level of performance and life expectancy, Active Cooling plays a key part. The Solid State Lighting Industry demands the highest reliability components as part of any product design. ebm-papst designs and manufactures high reliability fans with life expectancies common to 10-20 year life spans, far exceeding all other luminaire components such as drivers and LEDs themselves.
For high lumen applications, the need for an Active solution is common. Lighting designers are challenged with creating quality products with industry leading reliability. ebm-papst compact designs, along with extensive lifetimes and optimized low acoustic noise provide an excellent solution.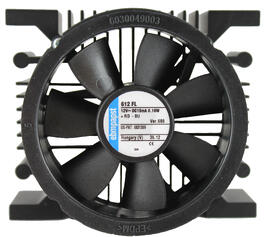 To learn more about the benefits of LED lighting and Active Cooling solutions, contact Steve Berestecky at 508-274-7575 or email at Stephen.berestecky@us.ebmpapst.com