by Matt Menard, Market Manager - Air Conditioning
In the world of HVAC, motors move conditioned air throughout the system. When a motor fails, cooling or heating ceases, leaving occupants of that building uncomfortable. The motor can be replaced relatively quickly with an experienced technician. However, diagnosing what caused the failure is difficult, time consuming and often ignored.
Motor failure is a major headache that can cost building owners significant money. With limited budgets and resources, implementing a preventative maintenance program on motors to minimize failures can be difficult for most. So what is the solution?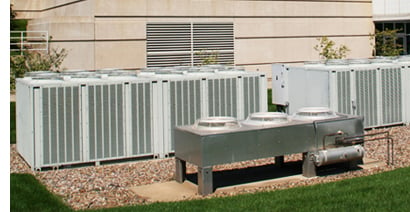 The December 9 issue of ACHR News discusses causes and prevention of motor failure. All of these types of failure can be avoided by choosing external rotor EC motor technology, such as is utilized in ebm-papst's product line, to boost reliability and efficiency.
Belt — Belt tension is critical in avoiding vibrations between the fan wheel and motor. Belts tend to stretch throughout their lifetime, so technicians tend to over tighten during replacement. A belt that is too tight overloads the motor and shortens the lifespan. ebm-papst external rotor motors do not use belts—the fan wheel is mounted directly to the motor rotor.

Overheating — This is the most common cause of failure. Dirt buildup on the fan wheel and poorly designed/installed ductwork causes additional strain on the motor resulting in overheating and a shortened lifespan. ebm-papst EC motors have temperature sensors built into the internal electronics package that act as a safety device in the case of overheating.

Electrical Fluting — When utilizing a Variable Frequency Drive (VFD) for speed control, users can experience a phenomenon called electrical fluting, which basically equates to a mini-lightning storm that occurs within the motor as voltage and frequency are regulated by the VFD. This 'storm' affects the bearings, resulting in premature failure. Electrical fluting is unpredictable and requires additional measures such as shaft grounding kits and ceramic bearings to prevent. ebm-papst EC motors have built-in speed control and do not require a VFD, eliminating the electrical fluting issue.
In addition to eliminating belts, adding temperature sensors and built-in speed control, industry experts such as Jim Connell of AirXChange Inc. believes that ECM fans are more reliable and use less energy than traditional AC motors and drives. Utilizing external rotor EC motor technology provides not only the most reliable, but most efficient technology available.