By Jack Derewonko - Quality Systems Manager
Futurists have repeatedly told us that computers and technology would completely eliminate the need for printed documents. It's impossible to conceive! How can key processes and procedures that closely chronicle our systems be obsoleted?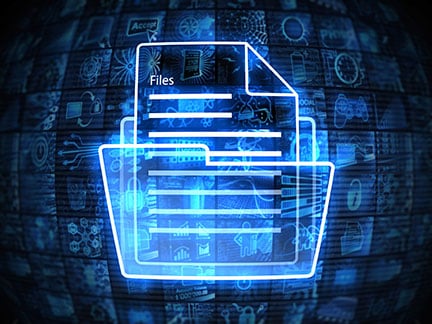 Like other companies that have worked hard to set up their ISO 9001 quality systems, ebm-papst is driven by "best practices" to ensure clear communication and consistent work standards.
Without a document control system, it's difficult to manage work instructions, customer drawings, design records and system procedures – all the things that ensure quality products and happy customers.
In the past, mountains of paperwork suffocated us if we didn't stay on top of updates and approvals. Hard-copy ISO 9001 documents have been replaced by an efficient, secure, paperless digital document system. How does the new system keep us informed and in compliance?

It's important to first understand what documentation procedures are required to become an ISO 9001 registered company (as well as retain this status):
There must be a process to review and approve documents before they "go live" and become accepted procedure.
Document changes and revisions must be clearly identified.

Processes and procedural documents must be available for reference in the locations where they are used.

Documents need to be legible and readily identifiable.

External documents must be controlled; these include customer drawings, purchase orders and specifications.

Obsolete documents must be deleted and removed from use.

All the above requirements are now managed with file author and permissions technology, and through secure digital file sharing. ebm-papst employees can access the latest approved document from their workstations, print and use it as needed. But the master copy, controlled by our quality department, is the electronic one.
It's saved thousands of pounds of paper, as well as thousands of hours of work yielding more productivity. We are focused in carrying out ISO 9001 standards in our products, better serving our customers.
What is your company doing to harness the ISO 9001 documentation beast? Share a comment below!


About Jack Derewonko
Quality is part of the ebm-papst Inc. DNA, and Jack Derewonko oversees the processes that keep it that way. As Quality Systems Manager, Jack applies his 13 years of expertise in managing the company's ISO 9001 and IS0 14001 systems. He also oversees the company's quality control department, ensuring that return material authorizations, credits, calibration work and corrective actions are properly handled and documented. Jack received his bachelor's degree in mechanical engineering and materials science with a minor in English from the University of Connecticut. Outside of work, he enjoys fishing, photography, mountain biking, skiing and golf.