The fifteenth "Product of the Year" was presented on March 14, 2013, and ebm-papst achieved first place with the high-performance DV6300 diagonal compact fan.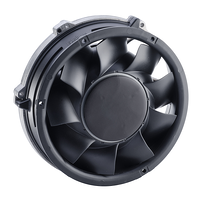 Readers of Elektronik and elektroniknet.de chose the DV6300 as the 2013 Product of the Year in the category "Electrical Engineering" from among 111 nominated products. The award recognises the most innovative and ground-breaking products in the industry. Peter Metzger, Manager of Business Development and Marketing for ebm-papst St. Georgen GmbH & Co. KG, accepted the distinction at the awards ceremony in Munich: "We are gratified to receive this recognition from the readers of Elektronik. The DV6300 demonstrates how we are setting new standards in state-of-the-art development and production methods."
The winning product from ebm-papst has an electronically controlled S-Force motor with additional options such as temperature regulation, active motor cooling and filter monitoring with signal output for filter change. The diagonal compact fan is ideal for applications with strict requirements regarding air performance with high backpressure, limited installation space and a low operating noise level.