by Todd Cardillo, Market Manager - Industrial
The world's population is getting older and living longer. Between 2000 and 2020, the number of people 65 and older is predicted to increase from 35 to 54 million. By 2050, that number will jump to 86 million! Life expectancy in the world's top 29 counties is now 80+ years old. (U.S. Administration on Aging, U.S. Census Bureau)
To serve older patients, the need for medical equipment and supplies will continue to grow. Next-generation imaging technologies such as CT/PET scanners are expected to grow at double digit rates over the next five years.(Market Analysis, Radiation Oncology, MD Publishing, Oct. 2012) New robotic surgical equipment allows patients to benefit from shorter hospital stays and reduced recovery times.
Fans are the hidden yet essential ingredient within much of today's advanced medical equipment. ebm-papst has supported ventilation solutions for the medical equipment industry for more than 25 years. ebm-papst fans and motors are used in an array of sophisticated equipment, from full-body imagers to smaller devices that improve patient comfort.
There are different components within medical imaging systems that need to be cooled. The type of air mover that's required depends on how much cooling is needed, how much room is available for the air mover, air pressure, noise level and temperature requirements among other criteria.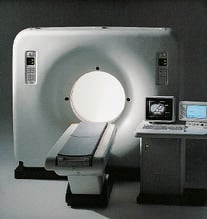 As one example, computerized tomography (CT) scanners include three complex systems: the gantry, the computer, and the operating console. These scanners usually have one or more air movers inside that may include axial fans, impellers, and centrifugal blowers. Several of our fans are used reduce the heat generated by G-forces created within the gantry during the imaging process.
On a much smaller scale, continuous positive airway pressure (CPAP) machines — which are used to treat people with obstructive sleep apnea — employ small fans that provide the high-pressure, low flow air stream required to help keep patients breathing continually at night.
Although the medical equipment market is growing rapidly, the testing and qualification required for new or modified equipment can take years. ebm-papst has a proven track record of working with medical equipment manufacturers to ensure that our fans are reliable, meet low noise requirements, are energy efficient, and perform consistently under stringent medical operating requirements.
What kinds of ventilation systems do you think could be included in new hospital equipment? What kinds of air-moving systems could be added to make patients more comfortable before, during and after a procedure? Let us know your thoughts in the comments below!