By Jack Derewonko - Quality Systems Manager
Above and beyond statutory and regulatory standards, ISO 9000 certification is designed to help organizations ensure they meet the needs of customers and other stakeholders related to their products or services. Over a million organizations worldwide are independently certified, making ISO 9001 one of the most widely used quality management tools in the world today.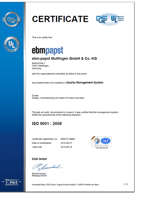 At ebm-papst, the ISO 9001 quality system is used to design and manufacture quality products of the highest degree. Thebenefits of ISO 9001 are far reaching and impact all areas of our company. A consistent approach to meeting customer requirements, improving all aspects of product performance and reducing the defect rate ensure operation savings.
To achieve ISO 9001 certification, a company is required to fully document a quality control program and follow the procedures it writes. This does not mean the products are certified to ISO 9001 but the quality system is certified. The ISO 9001 quality system at ebm-papst reduces operational costs and improves customer satisfaction.

Increased marketability – customers recognize ISO 9001 certification as an important factor when selecting suppliers.

Product performance – ebm-papst's customers expect our products to perform at the highest levels. We achieve this goal with solid designs and well documented quality control programs.

Reducing operational expense – quality programs like corrective action, internal audits, and continual improvement reduce defect rates and improve the efficiency of our production lines.

Increase customer satisfaction – high quality products help to meet customer expectations which leads to satisfied customers.

Improved internal communication – Some of the ISO 9001 requirements focus on self-assessment. This helps ebm-papst employees understand the interaction between departments. We have a focus on internal customers so process controls are established.

Improved supplier relations – ebm-papst suppliers play an important role in product quality. We have systems like supplier audits and performance measurements to improve and manage our supplier base.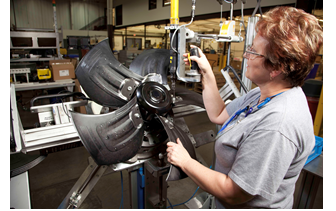 Without proper planning and training, there can be disadvantages of an ISO 9001 quality system. Excessive documentation can lead to control issues and loss of important data. Too few records will leave you without evidence of compliance. At ebm-papst, we are striving for a paperless system which will save time, improve quality, and lower our impact on the environment.
About Jack Derewonko
Quality is part of the ebm-papst Inc. DNA; Jack Derewonko oversees the processes that keep it that way. As Quality Systems Manager, Jack applies his 13 years of expertise in managing the company's ISO9001 and IS014001 systems. He also oversees the company's quality control department, ensuring that return material authorizations, credits, calibration work and corrective actions are properly handled and documented. Jack received his bachelor's degree in mechanical engineering and materials science with a minor in English from the University of Connecticut. Outside of work, he enjoys fishing, photography, mountain biking, skiing and golf.