By Joe Giacona, Market Manager - Transportation
Our nation's public transit (bus and rail) industry is constantly seeking new ways to minimize the environmental impacts of moving people who are escaping gridlock on the roadways. Fuel and operational efficiency and safety are key in a world where taking the bus or train can help save the planet, preserve our budgets and save our sanity.

To help public transit companies meet increasing demand, the American Public Transportation Association (APTA) welcomes innovative manufacturers and suppliers to their once-every-three years trade event. This year's APTA Expo, held October 13-15 in Houston, hosted about 800 exhibitors (up from 750 in 2011), including transit companies from Canada, Mexico and South America. The tools and products now available to those who design, build and maintain our bus, shuttle bus and rail systems are truly making a difference in how owners, operators, and transit agencies are achieving better efficiencies across the board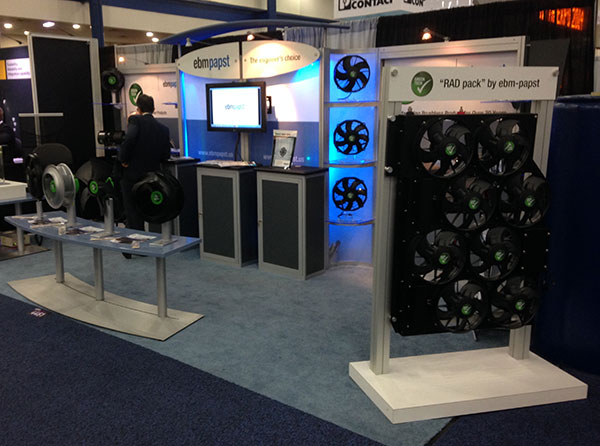 According to a recent APTA news release, this year public transit initiatives prevailed at the ballot box. 71 percent of voters believe in public transportation, and they are willing to invest in the bus, shuttle and rail systems that make their communities desirable places to live. Mass transit will become more and more of a necessity to link city and suburban dwellers in ways that reduce our energy outlay and grow our economy. The industry is leveraging both their market expertise and their predictions on future needs to promote adequate government funding that will build our future public transit infrastructure.
Because top original equipment manufacturers (OEMs) attend this event – as well as companies that sell HVAC systems to them – the APTA Expo offered a prime opportunity for us to demonstrate how ebm-papst transportation products are meeting their environmental, operational and safety goals. For bus manufacturers, the shift to alternate propulsion designs (CNG fuel, hybrid, and full electric modes) will continue. Rail systems will continue to upgrade and expand as automobile commutes grow longer and highways become even more congested.

Shows like the APTA Expo give ebm-papst an opportunity to understand how manufacturers and their components suppliers are helping buses and trains operate more efficiently, and how we can help them best meet their needs. The ultimate goal is to keep public transit customers safe and comfortable while supporting reliability, efficiency and safety of the bus and rail systems that move them.
About Joe Giacona
Joe Giacona knows that HVACR components within transportation systems must deliver performance and reliability over the long haul. As Market Manager – Transportation at ebm-papst, Joe's 30+ years of diverse experience in HVACR help him recommend the best ebm-papst products to heat and cool customers' buses, trains, trucks and other vehicles across North America. Joe actively supports the company's market development, forecasting, field sales coordination and customer relations. He holds a B.S. in physics from Brockport State College and a B.S. in industrial engineering from the University of Buffalo. In his free time, Joe enjoys cooking for his family, do-it-yourself projects, keeping his 1960 Corvette Roadster in peak form, and making wine from New York and California grapes.