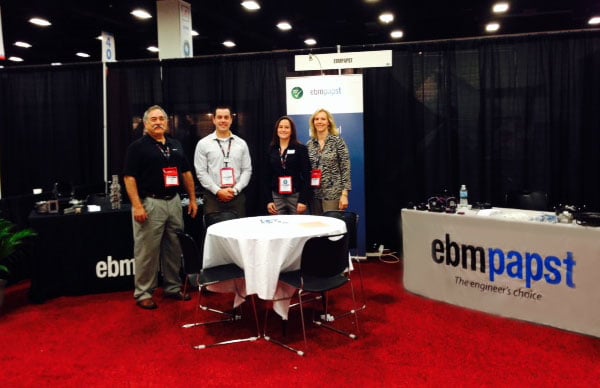 The ebm-papst sales team attended the Allied Electronics' Expo at the Fort Worth Convention Center this October. The event included a diverse gathering of industrial automation, electronic, and electromechanical suppliers. More than 90 well-known suppliers attended that offer the electronics industry power products, fans, connectors, relays, enclosures, switches, wire and cable and much more. Those in attendance accounted for 70% of sales for Allied in North America.
As a market leader in fans and blowers, and Allied's top supplier in this category, these biannual events give us an opportunity to demonstrate our products, engage with Allied's sales team and learn from our peers.
This year, everyone was talking about the economic upswing, a resurgence of manufacturing in North America along with Allied's sales growth.
There was a lot of 'buzz' at the show about how much is happening in the electronics industry today -- everyone is excited about the growth and position Allied is taking in continuing to address this growing market's needs. Allied is focusing on increasing their local sales presence and strengthening relationships with strategic suppliers. The show was a great opportunity for Allied's sales force and managers to learn more about our latest technology, solutions and markets.
We showcased a variety of air moving solutions including tube axial fans, axial fans, and centrifugal blowers, - a mere representation of our comprehensive product portfolio that includes AC, DC, and EC motor options. Our product display generated discussion about performance, acoustics, and application of the products across a wide range of markets.
ebm-papst offers a wide array of product to the electronics industry that provide flexibility, performance and energy savings in various applications.