If you work in a climate controlled office cubicle with a low ceiling, the mystical term "thermal destratification" may never play a role in your comfort or productivity.
However, if you're on a production floor or in a warehouse that swelters in the summer and freezes in the winter, shivered or sweated in an enclosed stadium or mall, or peered into a frost-covered grocer's freezer, you may appreciate the benefits of a device that evens out temperatures by continually exchanging a building's hot top air layer with cooler, lower layers.
Nine years ago, entrepreneur Ray Avedon, president of Longmont, Colorado-based Avedon Engineering and founder of Airius LLC, invented the turbine-shaped Air Pear Thermal Equalizer® to solve air flow problems and to save energy at his contract manufacturing facilities.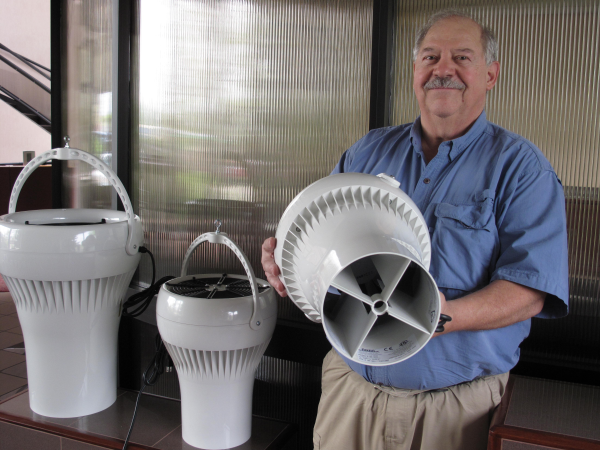 Ray Avedon with the AirPear
He hit upon a novel design and concept for a ceiling mounted air mover that would meet the needs of enclosed spaces – manufacturing facilities, warehouses, groceries, aircraft hangers and gymnasiums – that needed to stabilize temperature and humidity levels.
The energy efficient air turbine, named the Air Pear® by Airius for its appealing shape, was born. Initially developed in five models offering progressive voltage and size options, the more than 30,000 Air Pear® systems that have been installed since 2004 have been saving buildings — such Siemens Transportation Systems' rail maintenance facilities in Acton, UK — 35 percent or more on energy costs with an ROI of 12 to 36 months.
Before 2006, Airius sourced internal fan assemblies for its Air Pear systems from a low technology manufacturer. Airius had to meet specific regulations by the Food and Drug Administration (FDA) stipulating that pharmaceutical warehouse temperatures vary by no more than two degrees from ceiling to floor. The company needed to work with a manufacturer that would be able to deliver a dependable, controllable fan that would meet FDA's stringent requirements.
Enter ebm-papst, Inc., the North American headquarters for ebm-papst, a global manufacturer of energy efficient air moving systems.
"At our request, ebm-papst came up with a special fan motor – the EC motor – to facilitate our marketing with the pharmaceutical industry. That motor series is now the norm for our Air Pear destratification product line," expained Avedon.
"The beauty of our axial fans' EC motor is that everything can be remotely controlled. There are no separate motor speeds to hassle with … meaning dependable consistent ventilation and ease for the customer," said Randy Rau, ebm-papst's Denver-based sales engineer.
Six years later, Airius utilizes ebm-papst fans in 75 percent of its Air Pear systems. According to Rau, linked arrays of remotely controlled Air Pears that incorporate ebm-papst EC axial fans are installed in hundreds of applications.
The customers are diverse; Air Pear usage ranges from warehouses and plants to grocery stores, movie theaters, even a dairy producer that keeps its cows cool to increase milk production. Air Pear Model 45s are being used to equalize temperature and humidity in Washington D.C.'s botanical garden and soon will be installed at Hartford, Conn./Springfield, Mass.'s Bradley Airport. The larger Air Pear Model 100s are installed in aircraft hangers, large atriums, retail malls and sports stadiums.
As part of its GreenTech commitment to energy efficiency, ebm-papst Inc.'s U.S. headquarters in Farmington, Conn. recently installed 12 Air Pear units in an area that formerly served as warehouse space and now houses the company's assembly operations. According to ebm-papst Director of Manufacturing Brian Ladegard, the units, which are wired to be controlled as one collective "node" as well as operate independently, serve three purposes.
"The Air Pear units will help keep employees in our assembly building comfortable during winter months by circulating warm air to floor level," said Ladegard. "We anticipate saving on energy costs by equalizing temperatures in this building. And because ebm-papst's fans and motors are at the heart of the Air Pear Thermal Equalizers, observing them operate in our facility allows us to conduct practical on-site research and development and offer new configurations to Airius that can help them reach new markets."
"ebm-papst always has been an informative and cooperative partner in the development of motors for our Air Pear product line," said Avedon. "We continue to have a successful working relationship, including the new ebm-papst motors currently in development for a new line of Airius products."