By Armin Hauer, Advanced Technology Manager 
Two weeks ago, I joined my German ebm-papst colleagues Katrin Schaake, Wolfgang Laufer and hundreds of scientists, researchers and engineers who swarmed San Antonio to attend three powerhouse events from June 3 - 7:
As a longtime corporate member, ebm-papst has actively participated in AMCA's events and worked on its committees. Because fans and turbomachinery play an important role in aircraft engines, power plant turbines and many other applications that would be discussed at IGTI and ASME, this year AMCA decided to co-locate and co-time its conference to allow cross-pollination of ideas and expertise with the other two events.
The scope of fan sizes explored during the AMCA conference spanned 3.6 to 157 in., speeds from 750 to 10,500 rpm, and absorbed power from 30 W to 20 MW. We fan engineers loved it!
The AMCA schedule included Wolfgang's presentation, "Numerical Investigation of Axial Fans in Serial Connection," that discussed his team's research on two-stage setups of compact cooling fans, which are used widely in electronic telecom and computing equipment. These connected fans operate mostly at part load. If one fan fails, the remaining fan will speed up to avoid a local pressure drop or recirculation in the application.
Using 3D numerical methods, the ebm-papst team of aerodynamics engineers, led by Wolfgang, studied various two-stage set-ups of axial fans with 85 mm impeller diameters. The goal was to measure and compare steady and unsteady calculations of different serial fan configurations and compare results.
Our team proved how a proper arrangement of two axial fans will increase both fan pressure rise and flow rate. This type of arrangement would benefit air flow through the system & enhance cooling.
Dr. Michael Schmitz, manager of aerodynamics and simulation research and development at ebm-papst-St. Georgen, is a member of IGTI's recently created Fans and Blowers Committee. The papers sponsored by this committee highlighted fan technologies in hovercrafts and fan sound reduction techniques for locomotives. One researcher provided bio mimetic studies involving fan blades with leading-edge bumps similar to the tubercles of humpback whales. Another analyzed the tip-clearance noise of axial fans, comparing experiments with numerical simulation. Another IGTI paper discussed inverse design methodology for fans and blowers driven by a genetic algorithm.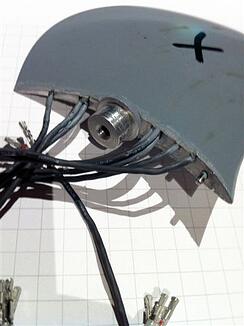 Other topics presented at the conference included computational fan development, innovations such as a carbon-fiber bladed fan for abrasive air streams and a pair of fire-resistant, reversible tunnel ventilation fans.
Presentations also addressed the all-important testing and certification of fans. In addition to electrical safety, air performance, sound, overspeed, balance and vibration requirements, some fans must undergo seismic pre-qualification or high-temperature stress testing.
A talk about permanent magnet fan motors provided a welcome refresher. In 2004, ebm-papst Inc. won the AHR Expo Innovation Award for incorporating magnetic drive technology in fans up to 50 in. diameter and 12 kW electrical input, which expanded products to a wide variety of HVAC/R applications that can benefit from these advances. The exhibition rounded off our days with hands-on demonstrations, follow-up discussions and networking opportunities.
Next year's Turboexpo takes place in Düsseldorf, Germany, and we're already looking forward to participating.
What innovations in fan technology are benefiting your business environment? What areas can be improved for your application's air-moving requirements? We'd love to hear from you – leave a comment and message below.