Groundbreaking ceremony for modern test center in St. Georgen, Germany
ebm-papst, the world's leading manufacturer of fans and motors, is investing in a new test center in St. Georgen and thus further reinforcing the company's position at the cutting edge of technology. The groundbreaking ceremony was held on Wednesday, July 17th.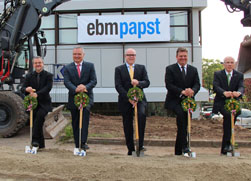 Groundbreaking ceremony at the new ebm-papst test center, Dr. Michael Schmitz (ebm-papst), Michael Rieger (mayor St. Georgen), Dirk Schallock, Rainer Hundsdörfer, Thomas Wagner (all ebm-papst)
"Our products and concepts are expected to satisfy ever higher standards with regard to performance, reliability and noise levels. We are rising to these technical challenges with highly qualified development work," says Rainer Hundsdörfer, Chairman of Board of Directors of the ebm-papst Group. The new test facility makes it possible to measure the aerodynamic and acoustic data of the fans at the same time.
The test center is to be constructed on the so-called room within a room principle. In other words, the measurement area is a suspended construction mechanically isolated from the building. This enables extremely accurate measurements to be taken without any interference from vibration for example.
The new test facility will permit the measurement of ebm-papst products in their application environment, for instance in vehicles or in IT and telecommunications devices. The company will then also be ideally equipped to perform psychoacoustic noise analysis in the future. Very slight differences in the frequency characteristics are sometimes enough to determine whether a noise of the same volume is considered to be a nuisance or pleasant. "Knowledge about positive acoustic sensations can give us a definite competitive edge," explains Dirk Schallock, Managing Director of the ebm-papst subsidiary in St. Georgen.
"But it is equally important to analyse the flow characteristics of new products and constantly enhance their performance and energy efficiency," as Schallock points out.
The investment will amount to a volume of more than two million euro. The test center is scheduled to open in the second half of 2014 and will secure the future of highly qualified ebm-papst jobs at the company's technology base in St. Georgen.