by Tom Costello, Market Manager – Appliance & Heating Gas
Our three part series on "What's that fan doing in my food chain?" ends with the preservation of food in our homes!
Since the early 1900s, the refrigeration of perishable food in our home has been possible with appliances designed and manufactured by pioneering companies like Kelvinator and Frigidaire. Initially, these appliances were limited in size and performance, but today they are at the heart of our kitchen. These modern-day appliances are offered in a variety of sizes, colors, and style in primarily three combinations: refrigerator and freezer, refrigerator only, or freezer only.
The typical set-point temperature for the refrigerator (37 F to 41 F) and freezer (-9 F to 0 F) are vastly different yet the cooling system behind them is the same. The theory behind the cooling cycle is based on two coils, a compressor, and coolant that are able to transfer energy with the assistance of two fans located at the evaporator and condenser coils.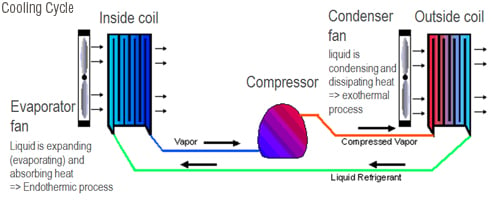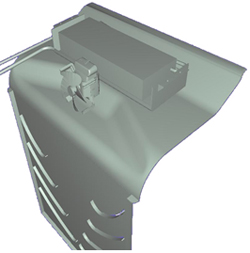 These fans, like the refrigerator, have evolved over the decades to deliver improved air and noise performance with up to an 85% reduction in electricity consumption. Even though air-moving technology has made great strides in energy consumption, human tendencies always pose new challenges for appliance engineers.
For instance, a variety of food in various shapes and forms jammed into a refrigerator can mean poor cooling conditions unless a powerful fan can properly circulate the cool air in the cabinet.
An axial fan may be a perfect choice for the linear airflow path of the condenser coil but a radial fan may be a better choice for the evaporator coil.
It may need to move the air in a 90 degree flow path and circulate the air around
the large mass of food in the refrigerator and freezer compartments.

At ebm-papst, our fan engineers are aware of these challenges and work closely
with the appliance engineers - offering a wide selection of powerful, high quality,
low noise and low energy air moving systems.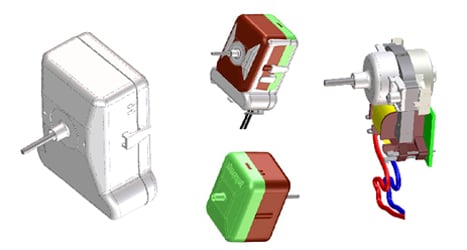 About Tom Costello
If it cooks or chills food, keeps us warm or improves how something's manufactured, odds are it requires ventilation. During his 27 years in the industry, Tom Costello has supported the evolution of air movement and combustion systems for residential, commercial and industrial food service, heating and process applications. As market manager – appliance heating and gas at ebm-papst for the past 15 years, he's helped designers, manufacturers and distributors incorporate the latest fan, blower and motor designs into their products. Tom received his B.S. in mechanical engineering technology from Northeastern University. In his free time, he enjoys golfing, scuba diving and home renovation.