By Matt Me
nard, Market Manager - Air Conditioning
Imagine it's a sweltering day, and you've entered a nice cool office building, school, hospital or large retail store. Aaah. Now imagine you've entered that same building but the air conditioning's not working. Would you accept that the building's owners shut it off to be green and consume less energy?
Given that 40% of commercial building utility bills go to power their HVAC systems, manufacturers are placing a strong emphasis on energy efficiency in product design for the rooftop units that move the cool (and hot) air that keeps us comfortable at work, in school, and at play.
Ranging from 3 to 175 tons, rooftop HVAC systems provide a turnkey solution, and can be installed on most large buildings. All components of the system, including fans, compressors, coils, electronics and filters are packed tightly into the unit, making installation, operation, and maintenance as simple as possible.
To meet the energy-saving specifications of HVAC system manufacturers, component suppliers have improved the efficiency and operation of the compressors, motors, fans, gas/electric heating devices and controls inside them.
Within rooftop units, compressors and fan motors consume the most energy. However, both have changed dramatically. Compressors have been transformed from inefficient, single speed devices to variable speed devices with electronic controls, making them 40 percent more efficient than their predecessors.
Similarly, fan motors have evolved from inefficient, single-speed units to variable speed, highly efficient designs. For example, the ebm-papst external rotor EC motor touts an efficiency of 90%.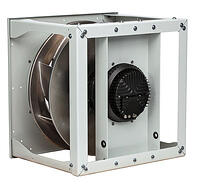 If you're responsible for keeping HVAC costs down in your building, this is great news. However, motor and compressor technology is nearing the limits of efficient design. Meanwhile, state and federal minimum energy standards are becoming more stringent.
As the mechanical components within HVAC systems begin to hit their efficiency limits, OEM's are looking to computer-generated designs that can optimize the heat exchangers and aerodynamics in packaged rooftop systems.
Evolving the heat exchanger
Recent work by the NIST (National Institute of Standards and Technology) is focused on air conditioning heat exchangers. Using computer generated design and analysis, they produced a unique heat exchanger design that yielded an 8% gain in efficiency for the heat exchanger and a 3% gain in overall unit performance. OEM manufacturers are actively pursuing these ultra-efficient designs. They're also utilizing materials such as aluminum instead of copper in new heat exchangers to reduce cost and improve efficiency.
Evolving the fan
While current fan motor technology is up to 90% efficient, the blades and impellers within a fan are aerodynamically inefficient. Forward curved fans, used in indoor applications, are about 50% efficient. Axial fans, used in outdoor applications, are between 30 and 40% efficient.
Offering expertise in EC motors and aerodynamic design, ebm-papst is working to boost the efficiency of future products through computer generated design and analysis. We're also working closely with our OEM partners to test new blade and impeller configurations within rooftop HVAC systems, with the goal of reducing power consumption and lowering operating costs to meet their customers' needs. So now imagine being green and keeping the air conditioning on!