By Phil Hartman, director of marketing, ebm-papst Inc.
Litter is sometimes caused intentionally by people, and other times litter 'just happens': Wind, rising waters, accidents and other unintended events can affect the distribution of garbage without anyone trying to be destructive. In the end, it takes the efforts of volunteers to clean up "out of sight – out of mind" places like wooded areas and waterways.
I enjoy being part of organized efforts to clean up our environment. For several years, I've helped ebm-papst volunteers organize trash clean ups in Farmington, Conn. at the Farmington river and around our plant and offices as part of our GreenDay campaign. I have also participated in annual Source to Sea clean ups in West Hartford and Hartford which are coordinated locally by the Connecticut River Watershed Council and Park Watershed. The purpose of these cleanups is to remove garbage from, and improve the quality of smaller waterways that lead to larger water sources. Each year a different area is chosen for clean up, and on October 5th our group met in West Hartford along the Trout Brook waterway. We worked on a section that runs along a new bike trail off South Quaker Lane across from Beachland Park. The link below describes the greenway project designed for safe biking and walking:
We covered less than ½ mile of the brook but our estimated haul was ~ 150 lbs of trash and recyclables, including several large bags of recyclable bottles and cans, a car muffler, a 10-foot length of steel rebar, plywood, Styrofoam, metal pipes, and bags of assorted garbage with a heavy concentration of decaying plastic bags.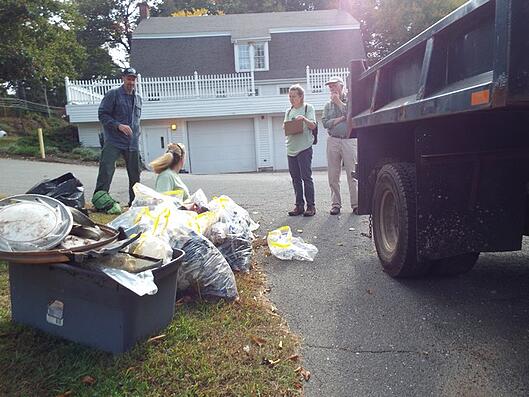 On a positive note, nothing too toxic was found, and even with all of this garbage the waterway appears to be somewhat healthy as we found frogs and evidence of waterfowl, freshwater clams and snails.
Waterways like Trout Brook lead to rivers that lead to the ocean, so the more garbage we can keep from reaching the ocean, the better. Cleaner beaches, lower toxicity in our seafood, and a better habitat for nature are all worth pitching in for.