By Brian Ladegard, director of operations, ebm-papst Inc.
As a high mix, low volume (HMLV) manufacturer, ebm-papst Inc. produces more than 700 unique engineered-to-order products every year for a wide array of market applications at our Farmington, Connecticut facility.
We're continually evaluating new products' manufacturability – how can each be produced easily, effectively, and with maximum reliability? As we serve custom-order requirements, we're also balancing our plant's level of automation, organization and manufacturing flow to improve throughput, lower costs and ensure quality.
CNC Machines: A custom shop's best friend.
Our sheet metal processes — laser cutting, turret punching, press brake bending, hardware insertion, rolling, and single point resistance welding (spot welding) — are set up nicely for low to medium volume production. Our computer numerical controlled (CNC) machines help us rapidly change part geometries through the machine's software.
For example, our laser cutter allows us to move holes and edges by changing X and Y positions in the machine's program code. If the same part were "hard tooled" (with dedicated die sets and a coil-fed stamping process), these changes would require significant costs and time to re-make sections of tools within each die set.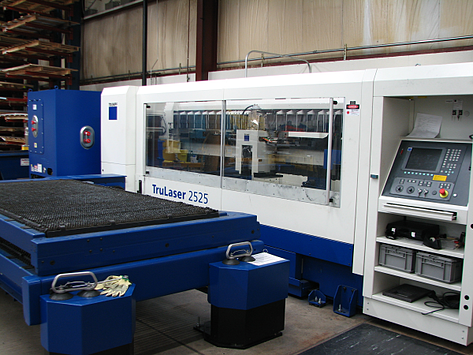 Our sheet metal methods are appropriate for annual volumes from 5 to 20,000 pieces – representing a good balance between low initial tooling costs, fast time-to-market, and modest piece costs. Sometimes we can make simple investments in punching tools that rapidly reduce our sheet processing times.
Keeping it simple (and flexible)
In our final assembly area, we use simple, generic tools (air screwdrivers, simple wire cutting devices, single-shot pop rivets, and manually initiated testing plans) and develop the final assembly process with minimal need for assembly-specific fixtures. We've set up work cells of 2-3 operators each who divide up that cell's tasks. We balance the time for each task, so that no one is left idle as the product moves through assembly. When volumes increase, we utilize dedicated assembly jigs (to assist in standardized label placement, for example) and fixtures to speed the process up. These are typically developed and purchased when products have consistent "every week" demands.
Just in time's ally
When volumes ramp up again, we often setup a dedicated work cell space with dedicated tools and KANBAN ("ready floor stock" in bins) component inventories. These dedicated work cells allow us to respond rapidly – as soon as the last component arrives – and begin assembly with very little setup time.
When to automate. When to go manual.
How does the level of automation at our German facilities compare with automation at our U.S. plant, and why?
Our German operations produce larger quantities that require fewer product variations. This enables them to standardize the way they move parts from one position to the next, utilizing conveyor belts (trolleys) or robotic arms.
In comparison, our U.S. facility lives by the mantra "any way you want it – quickly." To accommodate shorter product life cycles for sheet metal assembly shapes and sizes that are constantly evolving, we take an agile and adaptive approach. Typically, small sets of products are moved from work cell to work cell along with each product's priority. We also work with a computer driven "dispatch list" in each work cell. Once parts finish "upstream", they immediately show as available in the next work cell – and take their proper place in the queue of work in the next cell. Of course we also have the ability to manipulate this list – to reflect the constant changes in customer demands.